We are Back in Person at IHRE22 London!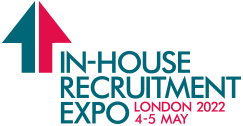 We're excited to announce that registration is now open for the In House Recruitment Expo 2022! After almost two and a half years we are back live and in person in London on 4th and 5th May! And we will be hosting you in a new venue too. For the first time we will be at London's prestigious Business Design Centre in Islington, which we believe will prove to be the perfect location for our return to live events and for us all to be able to network, meet and talk with attendees, sponsors, and exhibitors, once again in person.
We are pleased to welcome back as our livestream sponsors the Global Talent Mapping, Talent Pipelining and Executive Search specialists Armstrong Craven, whilst Oleeo, the end-to-end recruitment platform, will also return as our silver event sponsors. We are also proud to welcome as sponsors for the first time the all-in-one hiring platform Modern Hire as Bronze sponsors, and Beamery, the full cycle Talent Lifecycle platform, who will be our networking zone sponsors.
We know that 2022 is shaping up to be a challenging year for the In House Recruitment community. The Great Resignation has led to many businesses needing to hire talent at scale, and quickly, putting pressure on our recruitment teams to drive efficiencies and transform their recruiting process by investing in new conversational and predictive technologies. With so many businesses looking to attract the right talent, the focus is on creating an authentic employer brand that the best talent will identify with and having a candidate experience that attracts and engages.
Talent intelligence, particularly having visibility of all the internal skills and capabilities currently in the business, as well as those that need to be hired, is crucial for In House recruiters who want to get their roles to market quickest and give themselves the best chance of attracting the right talent. Meanwhile the pressure is on recruiters to help hiring managers be able to assess candidates in a way that helps them identify potential, something that new technologies can help with.
We are proud to be partnering with Fosway, Europe's number one HR technology analyst firm, for their 2022 Talent Acquisition Realities research project this year and are really looking forward to hearing their senior analyst, Sven Elbert, share the results and findings from this in a seminar on Day one as he explains how leading organisations are managing change.
Also on the first day, we will hear from Radancy's SVP Global Client Development, Steven Ehrlich, on how to recruit smarter, better, faster and cheaper using data, AI and connected intelligence. Meanwhile the Forum for In House Recruitment Managers will share their research and insights on the realities, opportunities, and challenges for the modern Talent Acquisition leader.
With TA technology very much to the fore in 2022, Ben Murphy-Ryan of ARM will open our seminar sessions on day one sharing their Tech Stack journey with a detailed look at how they evaluated, analysed and eventually changed their TA technology. Claire Stewart, from our livestream sponsors Armstrong Craven, will explain why leadership risk and succession planning must be at the heart of your DE&I strategy, whilst in an afternoon seminar session on Day 1 Charlotte Barton, of McArthur Glen, will share an honest, back to basics overview of their DE&I journey, and tell us about their plans for 2022.
To be successful in a competitive talent market, you need a great candidate experience, and on the morning of Day 2 Simon Davies and Adam Gretton, from our Bronze sponsors Modern Hire, will share the six key elements of attracting top talent through a great candidate experience. Later in the afternoon Chloe Foster of Valorum Care Group will talk about how they designed a full digital attraction strategy during the pandemic, looking particularly at how they approached engagement and maintaining candidate relationships virtually. Future talent is also in the spotlight as Christopher Cuthbert, from Jardine Motor Group, shares the insights he gained when working with education providers to create a meaningful work experience, creating a successful industry placement programme.
Approaches to flexible working is an important theme that we are highlighting at this Expo. We will get the practitioner's view from Andrew Basley, Head of People & Talent at FITTS, as he explains how they have embraced flexible working and the importance of trusting your people, whilst Melissa Jamieson from consultants Timewise will close Day 2 with analysis of why flexible hiring is a win-win for both employers and candidates.
We're so excited to be back in person with you that we're giving you two days full of incredible speakers sharing lots of key learnings and insights. As well as all our exhibitors and sponsors who are ready to showcase the latest Talent Acquisition technology to help you attract and hire the people you need. You can't afford to miss out so make sure you register now and start booking your seats in the sessions that will help you have a successful 2022.
We can't wait to welcome you. In person!!