Can You Afford to Miss #IHRE22London?? Register today!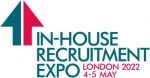 There's just over one – week to go until we open the doors for the InHouse Recruitment Expo 2022 to return live and in person! Coming from our new home at London's iconic Business Design Centre, we will be showcasing the most interesting speakers, sharing their latest research, findings, and experiences, whilst our Expo will also feature the latest technology and supplier offerings that can help you support your InHouse Recruitment Team in achieving, and exceeding, their targets.
We know that you can't wait to meet up again in person to connect, network and learn and we are ready to welcome you! We will have a special Networking Zone for attendees to relax, catch up with their colleagues (and the office!), and make new contacts. You'll be able to continue the conversations over coffee and food and Cafe Pod and Jacks, two of the Business Design Centre's dedicated food and drink outlets.
We wouldn't be able to host the Expo without the continuing support of our sponsors, and we are delighted to welcome four first time sponsors to the show! All-in-one hiring platform Modern Hire are our Bronze sponsor, whilst JobLookUp, the job posting platform that offers access to wide-reaching job boards, will be our showbag sponsors and stand-alone Talent Management platform and ATS Hireserve are our lanyard sponsors. We are also proud to welcome back end-to-end recruitment platform Oleeo as our Silver sponsors, and Global Talent Mapping, Talent Pipelining and Executive Search specialists Armstrong Craven will again be sponsoring our Livestream.
The 2022 recruitment market continues to be both challenging and competitive for corporate recruiters and HRD professionals alike, and to help you achieve your best results we have lined up a number of exceptional speakers to share their experience and knowledge. Radancy's Steve Ehrlich will open our seminar programme in Theatre 2 with his insights on how to recruit better, faster – and cheaper – through the smart use of data and Artificial Intelligence, whilst on day 2 Sam Lewis of BSI will showcase how the intelligent use of data can drive Talent Acquisition success. Ben Murphy Ryan will open the Expo with a session looking at how arm evaluated and ultimately changed their recruitment technology stack to drive growth, improving both candidate and user experience in the process.
The expo will also showcase one of our strongest ever line-ups of Masterclass sessions. Miriam Luke of GFB Group will look at the role psychometrics plays in recruiting the right people for the right roles, and Tim Clifford of Talos 360 talks about how to leverage technology to improve workforce strategy to help improve Diversity & Inclusion. There will be a fascinating session from Annie Vernon, of Life After Professional Sport, that looks at how hiring a career changer – particularly one who has experience of high performance in a different setting – can really add something different to your organisation. Meanwhile Ben Williams of Sten10 will tell us how to conduct the best virtual assessments, making them engaging, fair and valid, and delivering the best possible results.
We will host live Question & Answer sessions after seminars from Theo Smith (author of the book Neurodiversity at Work) whose presentation will look at whether HR technology is an enabler or disabler when it comes to Diversity & Inclusion initiatives, and also after the seminar from Isabelle Hung (from Forge Rock) who will be examining how businesses can improve the diversity of their executive teams through taking a data driven approach to identifying the external candidates to be considered alongside internal talent for senior roles. Make sure you book your place and take part in these sessions!
Our host on 4th May will be Mervyn Dinnen, a writer, analyst and commentator on talent and technology trends, and author of the book Digital Talent. In addition to introducing our speakers and putting your questions to them, he will also be sharing his latest research on how to improve speed and quality of hire in a competitive market in a Masterclass session and will also run a seminar on how to best support you recruiters' wellbeing.
We can't wait to welcome you to our new home on 4th May! We're excited to be back in person and have put together one of our strongest ever line-ups of speakers to help you navigate the evolving world of InHouse Recruitment. As well as a wide range of exhibitors and sponsors, all ready to showcase the latest technology to help you attract and hire the people you need.
You can't afford to miss out and time is ticking! Make sure you register now and book your seats in the sessions that will help you meet, and exceed, your targets in 2022!
To register: http://ihre2022.eventreference.com/visitor